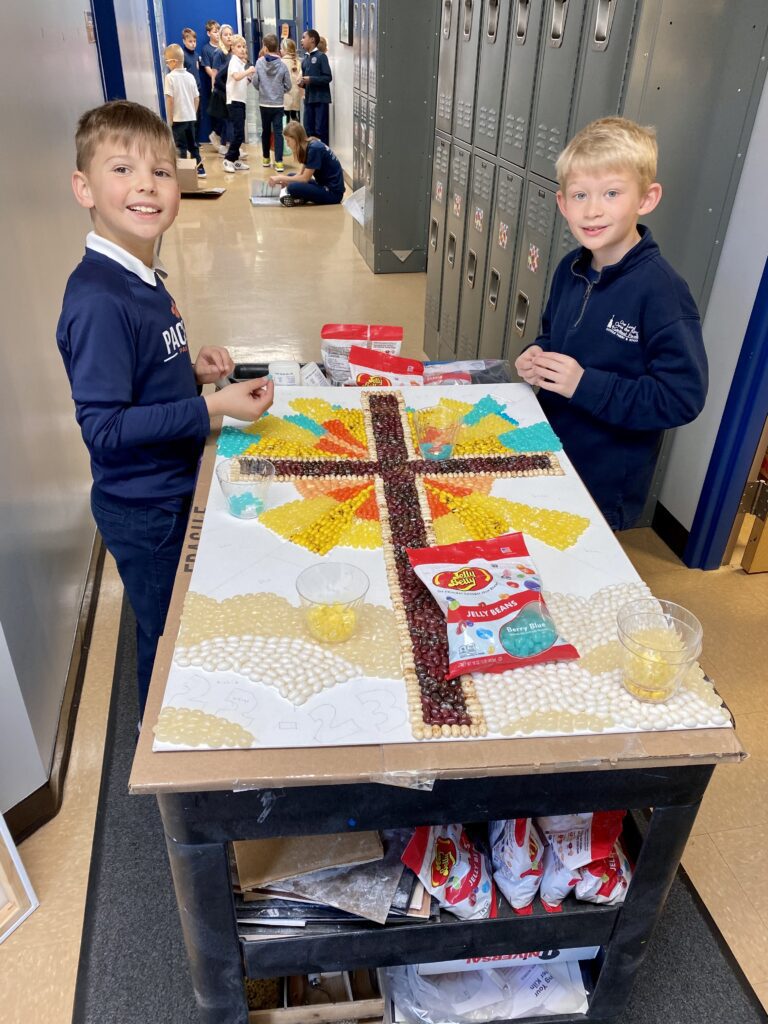 Jellybean Mosaic Captures Easter Scene
Each spring the first and second graders at Cardinal Pacelli work very carefully to create a special art project. One jellybean at a time, they construct a mosaic depicting an Easter scene or symbol.
This endeavor, known at Cardinal Pacelli as the "Easter Mosaic Masterpiece," takes place under the auspices of the school's Fine Arts Committee. Parent Emilie Rouse said, "This year we liked the idea of the stained-glass window featuring the cross. The rays of light coming from behind the cross make us think of the light that Christ offers through his love and resurrection."
The jellybean mosaics take about two weeks to complete. Rouse works with Pacelli moms Sarah Fisher and Megan Stagnaro to pull small groups of students from art class/library time to create the artwork. After the image is sketched on a canvas, the students take turns selecting and gluing jellybeans into the scene. The finished mosaic will be displayed in a 24 x 36" inch frame and hung in the Cardinal Pacelli cafeteria. This year's mosaic will be the tenth one.
Rouse said the children love the project. "They all take a lot of pride in looking at the sections they helped with and are amazed to see the progress that happens between their turns. Lots of older kids also stop to take a look and remember the themes their class helped with in past years."