The parish of Our Lord Christ the King was established in November 1926 with 132 Catholic families living within the parish boundaries. The letter authorizing Fr. Edward J. Quinn to form the parish coincided with the celebration of the first feast of Christ the King established by Pope Pius XI, making ours the first parish ever to be dedicated to Our Lord under the title of King. The first mass was said on December 5, 1926, in the Lin-Del building at 3200 Linwood Road. In September 1927, a 4-room school building was built and opened with the Sisters of Notre Dame de Namur in charge. Enrollment was initially 108 students, but by 1936 it grew to 202 students and a larger school building was planned.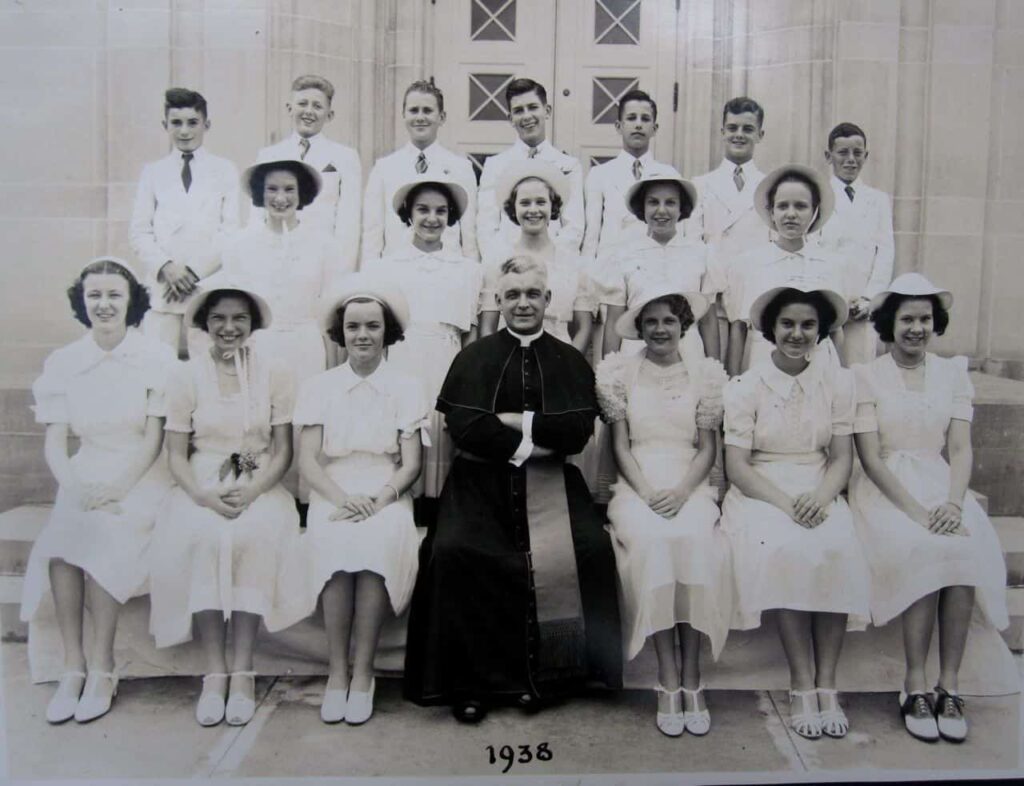 On October 31, 1937, Eugenio Cardinal Pacelli, secretary of State to His Holiness Pope Pius XI, and a personal friend of the pastor, blessed the cornerstone for the new school. To honor the visit of the Cardinal, the new building was named The Cardinal Pacelli School. Cardinal Pacelli was elected pope on March 2, 1938, and took the name of Pope Pius XII.
In 1963, student enrollment was increasing and a second floor with eight classrooms and a principal's office was added to the school building. In 1971 the Sisters of Notre Dame de Namur found it necessary to end their relationship with the school due to declining vocations and pressing needs in other ministries.
Fr. Quinn retired due to ill health in August of 1965. He continued in residence until his death in September of 1966 after nearly 39 years as pastor. He was succeeded by Monsignor Edward J. Graham, who was pastor until he retired in 1975. Fr. Francis G. Lammeier was then pastor until 1987. Fr. Gerald Haemmerle was pastor until 1997 when Fr. Robert Obermeyer was appointed. Fr. Edward Smith returned to Christ the King as pastor taking over for Fr. Obermeyer, who retired after celebrating his Golden Anniversary of 50 years in the priesthood.
In 1993, the parish completed construction of its Parish Center, which includes a gym, additional classroom space and meeting rooms. At that time, the original school gym was remodeled into offices, a new school library and a computer lab. Since that time, the gym has been remodeled adding a second floor, including a science room, computer lab, art room and library. The first floor of the old gym has been turned into new school offices and kindergarten classrooms.